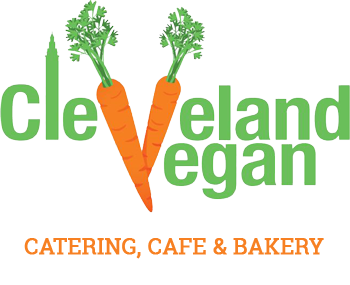 ORGANIC
SCRATCH KITCHEN

CUISINE
---
17112 Detroit Ave/Lakewood, OH 44107
To care for the world we live in,
Cleveland Vegan's mission is to provide excellent customer service through our organic & locally sourced all vegan catering, cafe, and bakery.

WEDDINGS
We cater weddings of all sizes. Contact us today to start planning your vegan wedding!
Learn More >>

CATERING
Cleveland Vegan catering is the foundation of our business, started in 2012. We cater events such as small dinner parties, corporate events, baby/wedding showers, backyard picnics to full service weddings.
Learn More About our Services >>

ABOUT US
 Learn about our amazing team today here!
Learn More >>


BAKERY
Pastry, Cupcakes, Wedding Cakes, Cookies, and everything in between, Cleveland Vegan bakery can do it!
Learn More and Order Today >>


FAQ
Read our Frequently Asked Questions
Learn More >>


Organic and Local
Our Promise
Cleveland Vegan's full-service catering, cafe & bakery offers you the best of both worlds – a health conscious and environmentally kind way of nourishing its customers with the use of locally grown & organic ingredients.
Our purpose is to better this planet by reducing harm to animals, preserving our planet's resources, promoting healthful eating & prove that eating a healthy, vegan diet can be fulfilling, flavorful & delicious.
Our Core Values: Integrity, Humor, Compassion
I love the food. I tried the tomato bisque and avocado toast on my first visit, it was amazing! Excellent presentation and phenomenal taste.
Yesterday was my first time there and everything was so yummy! The cauliflower lasagna and the Brussels sprouts were amazing. I loved the atmosphere and all the staff was really cool. It won't be my last time.
Before the storefront was open, me and my husband were looking for a vegan caterer for our wedding and thankfully found Cleveland Vegan. Justin and Laura were amazing from start to finish. They provided samples, great input, and the service was amazing on the day of my wedding! Wedding planning can be stressful but Cleveland Vegan helped my wedding day be a day I will never forget 🙂

I frequently go to Cleveland vegan and just like at our wedding, the service is always amazing and the food is delicious. I also love the atmosphere, highly recommend!
It was a bit busy when we arrived but so worth the wait. Food was amazing and portions were big and filling. Menu is very creative with many different options and should make even the pickiest eater happy 🙂
Terrific find. Interesting menu choices. Great plant-based cheeses, mylks and patties. The staff is warm and helpful. Decor is cozy and creative. Great breakfast options too with delicious bulletproof and matcha lattes.










—

Pamela AdriKat-Witt

Everyone loved the cassata cake that Cleveland Vegan made for my recent wedding. Laura and Daniel were fantastic to work with and made sure my cake was scrumptious and beautiful. They easily accommodated my gluten-free relatives by making cassata cupcakes so they didn't have to miss out on the deliciousness.